There were six of us in my group. We decided to try flying Virgin Atlantic for the first time.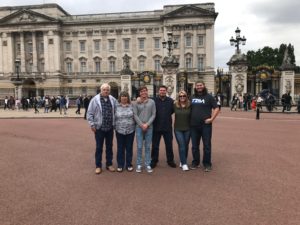 From San Francisco to London we decided to fly Premium Economy, and fly Upper Class on the return flight.
In my last blog post, I shared how much I love flying JetBlue. I must say that hasn't changed at all.
This wasn't my first time flying Virgin America. I'd previously flown both coach and first class, and was very happy with first class (which is called Upper Class.) I was sadly disappointed with Virgin America's coach class.
Virgin America's coach class has a cool and trendy feel with good décor, lights, and music, but sacrifices too much seat room and complementary items that most airlines dish out generously.
Apparently Alaska Air bought Virgin America so I'm sure it will change drastically.
Virgin Atlantic's price was worth premier economy at $1,500 per seat (round trip), which is the price of coach with some other airlines. Standard coach price for Virgin Atlantic was around $1,200.
With Virgin Premier, you get a separate area at check-in that moves way faster than the lines for economy.
Your bags get special priority tags similar to first class, so you'll get them faster at baggage claim.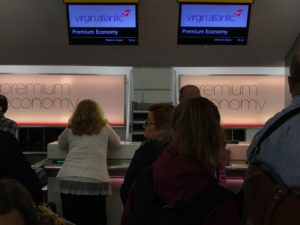 Virgin Premier is courteous and helpful and they offered upgrades on all their services and seats on the flight
back to SFO. We definitely took advantage of that.
It looked like the plane we were on from SFO to Heathrow was made like 20 years ago, but had an upgraded interior so it felt less dated.
The seats had wear and tear, and dated electronics and TV's.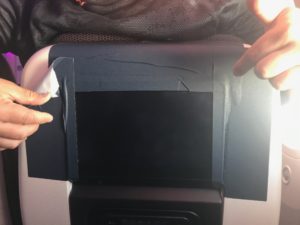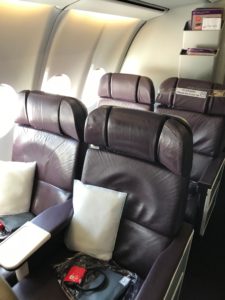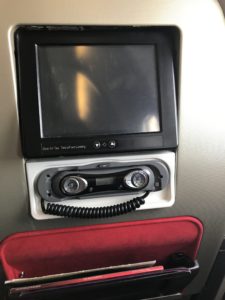 There was a plug-in box for charging your phone or laptop, which was nice, but no Wi-Fi, which made for a long and boring 11-hour flight.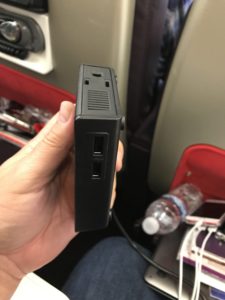 The movie selection had some newer movies you might see on pay-per-view, newer TV show series, foreign classics and American favorites. The media screen also had a video game option, and the remote doubled as a worn-out video game controller.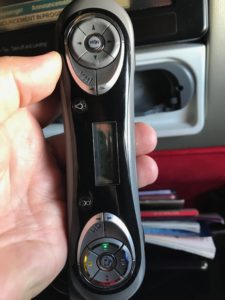 The food was decent, would disappoint the expectations of most people.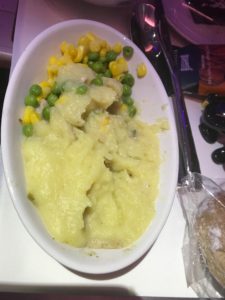 The upscale menu options are grossly misrepresenting the food quality, which arrives in tack tin-foil with the ingredients or meal description written in Chinese.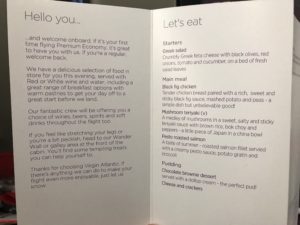 The meal itself looks like something from a grade school cafeteria, slopped into a bowl with no regard for taste or presentation. The food was salty and seemingly made with bottom shelf ingredients. Most would expect better quality and bigger portions.
There's a section of the plane between upper class and Premium Economy called the "wonder wall" where you'll find trendy, exotic, tiny packaged foods you can grab anytime you want a quick snack.
We tried the snacks, none of them were good. They were extremely salty, very pungent smelling items with non-appealing flavors, lacking quality and taste.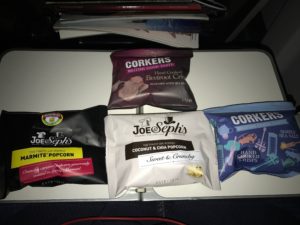 If the air waitress doesn't bring your drinks fast enough you can mosey just beyond the "wonder wall" to find a small hosted bar area. There you can grab a drink, alcoholic or not, before an annoyed stewardess tells you to go back to your seat.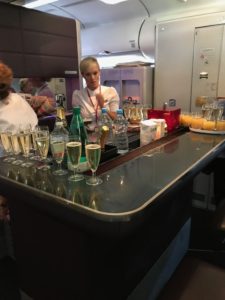 Luckily they bring booze right to the seats too 🙂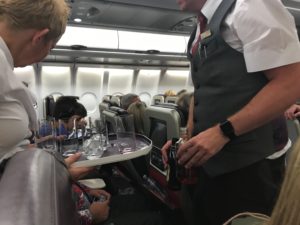 The style of the seats are nearly identical to Alaska Airlines' first class seats.
However, in the Virgin seating configuration they have a 2-4-2 arrangement. There are two seats by the window, four seats in the middle, and two seats by the window. Alaska's first class seating is 2-by-2 on their smaller planes.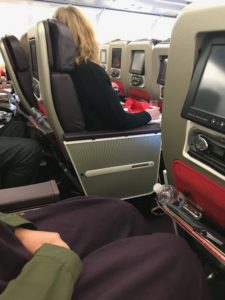 The seats have about a 30% recline, with a bit more leg room than regular economy. They also have a footrest and a small table that extends from the arm.
There's about a six-inch space between the seats, only wide enough for one person's arm without touching the other person's arm, giving you that awkward 'hey, I'm not a creep, just looking for a place to put my arm' type of situation.
The takeoff and landing was quite comfortable, and the flight itself was pretty smooth save a bit of turbulence in the middle of the Atlantic ocean that had my butt puckering a little, I prayed we didn't go down in the middle of the pitch black, ice cold Atlantic ocean thousands of miles away from everything except sharks. But that's nobody's fault!
Disembarking and picking up the luggage was easy and all-in-all it was a good experience for the price tag.
RECAP: For about $300 you can upgrade from economy to premium to get more legroom, better seats, one or two less seat neighbors, your own media station, a "wonder wall", complementary food and booze, a bar to stroll over to, priority boarding and leaving, and priority luggage retrieval.
If you're flying for 11 hours, I recommend the $300 extra investment. For a short, domestic flight, save your money.
I almost forgot to mention the Upper Class seats are around $15,000 each way. These seats are similar in quality yet inferior to the JetBlue Pods. For $15,000 each way, premium is a much better bargain, because it's basically the same seating as most domestic first class seats with the exception of JetBlue, which is the best.
Have you flown Virgin Atlantic?
Have you tried their Premium Economy seats?
Let me know your thoughts or questions about your next experience below.