Beadles Survival Guide to Bahamas Best Restaurants, Do's and Don'ts, and Fun in the Sun
I love traveling. People often ask me what a place is like, activities and destinations I recommend, best places to eat, what to avoid, and fun stuff to do in each destination. I decided to create this blog as a resource for the places I visit, and the experiences I have with people and businesses on my travels.
Let's start with the Bahamas.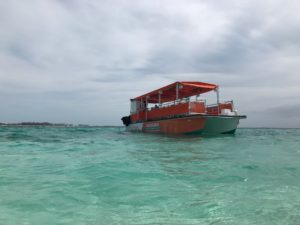 Best Ways to Travel and Enjoy the Bahamas

Be advised, you'll notice I don't butter things up – I give it to you straight. As my friend Ricci says, I give it to people dirty. In this article, you will get that: My down-and-dirty opinions and advice on what to do and not do on your trip to the Bahamas.
Some people love my straightforwardness and some hate it. Be sure to let me know your thoughts in the comments at the end of this blog (at the bottom of the page).
Apologies ahead of time for my grammar and unorthodox writing style 🙂

When people think of the Bahamas, they think of Atlantis Paradise Island and Water Park. This ocean resort, considered the jewel of the island, has become pretty outdated and overpriced.
It's a kid friendly water park and resort, for kids and kids at heart. Water slides, lazy river, beach access, and several pools keep families entertained. There are casinos for parents to enjoy at night.
The Baha Mar is a brand-new adult-centric resort with gambling, golf, and swimming pools. I'm told it recently failed a soft opening and will retry in November with a full launch. Once it's open I'll check it out and report back to you with a full review.
We've visited the Bahamas a half dozen or more times now, and have seen it take a dive for the worse. We usually bring a group of 25 or more people with us each time so we cover a lot of ground. We try great restaurants, bad ones, and do all the fun in the sun stuff. I'll cover it all here to ensure you have a great time in the Bahamas, even if it's starting to seem more and more like Hades instead of paradise.
TSA in the Bahamas

The TSA personnel in the Bahamas is pretty cool and kickass. They even took our photo!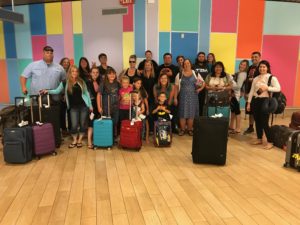 A live band plays music right in the customs area as you arrive in the airport!

Plan on spending an hour to get in and out of TSA customs areas. It's a pretty easy in-and-out but it can get crowded, and at times take up to an hour to get through.
Transportation in the Bahamas

Airfare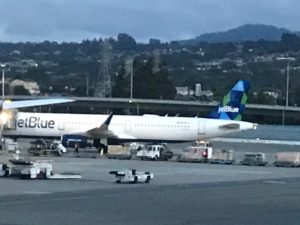 JetBlue Mint is worth every penny!

I have tried them all – United, American, Virgin, Delta, but I've got a big fat crush on Jet Blue. Their MINT Experience is awesome! All the first-class standards like first to board and no charge for luggage, and they turn the service way up!

In a world where some carriers are known for physically pulling you from the plane against your will, (we won't name names… *cough* United) Jet Blue actually greets you with smiles and an eagerness to please!
For starters, the peeps at Jet Blue give you a world-class alcoholic signature drink. (Or non-alcoholic if you so choose.) It's pretty awesome. They'll get you something else instead if you want, which is also very considerate.

Their seats have all the charging, auxiliary, and headphone ports you'll ever need.
Each personal entertainment system has a large monitor, movies, TV shows, music, and mapping sure to keep you entertained. Also, there's free Wi-Fi!
Yup, you read that right. Free Wi-Fi.
So if you need to catchup on work, or your favorite Hulu or Netflix show, boom, you've got that too.
You can also watch TV and movies uninterrupted on the tarmac – you don't have to wait until you are in the air!

If that's not enough value for you, they give you a Hopper gift bag filled with cool knick-knacks and personal hygiene products. (Ever smelt your pits or breath after a long flight? Yikes!) You can put those to good use.

Their menu is world-class as well. Take a look below, they offer tons of tasty choices. Unlike United or American Airlines, you have some serious choices here. Great lunches, dinners, deserts, and all the snacks you can eat! Oh, and the booze – it's included too.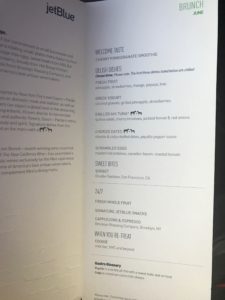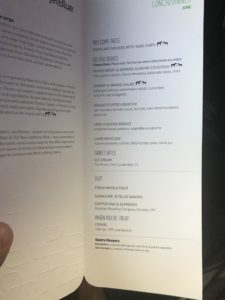 I saved the best feature for last – the pod.
That's right, pod. The pod is an amazing capsule with all the legroom and buttons you need to be comfortable during even the roughest domestic flight.

These seats massage, recline, and lay completely flat. Jet Blue gives you a super comfy pillow and comforter so can sleep like a rock from coast to coast.
It is an amazing experience. If you're gonna fly for more than an hour or two, it's definitely worth the upgrade cost!
Check it out here:

https://www.jetblue.com/flying-on-jetblue/mint/
Vehicle Transportation in the Bahamas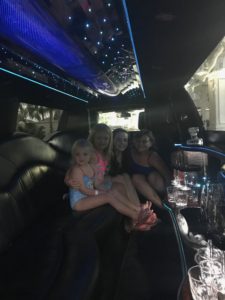 There really is no need to rent a vehicle in the Bahamas. Just remember when you land to find a cab and set the price with them before they take you anywhere.
Look at this rate sheet: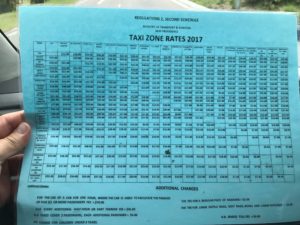 Some cab drivers will try to take advantage of you, so get the price up front or call in advance. We use M & M Transport. Once we land we simply text Mike and he's out front waiting for us. He's a great guy – super personable and he'll give you the local scoop on what's going on around the Bahamas too!
You'll love him and his company.

Check them out here:
https://www.facebook.com/MM-Taxi-Tours-578232145619816/
If you stay at the Harborside or Atlantis, they have free shuttles to and from the park, shopping, and eating areas.

For $4, water taxis will take you from Paradise Island to Nassau's heart of Bohemian tourist shopping centers. This area has little stores, souvenir shops, and major restaurants like Hard Rock Cafe, El Senior Frog's, etc.
Best Places to Stay in the Bahamas
Atlantis Resort and Harborside Inn

If you really want to go to the Atlantis waterparks, it would be wise to stay at the actual Atlantis Resort, or its sister property the Harborside Property.
Both of these locations are very dated and leave a lot to be desired, but you will pay over $100 a person to get into the waterpark daily, so stay at one of these properties if you're visiting the waterpark.
If you arrive before 4pm, you can leave your bags with the bellman and hit the water parks. Sometimes you'll find out what room you'll be staying in before it's ready for you. In this case, they might let you put your bags in the room before the completed cleaning if you ask nicely. (With a big tip!)

Harborside has little kitchenettes as well as washers and dryers in most of their rooms. This is a nice added bonus. It's about a 5-minute walk to the waterparks from Harborside, or you can take their free shuttle.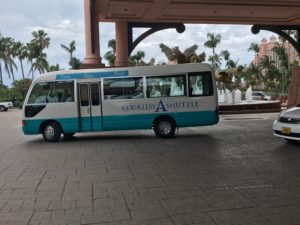 If your super brave, (or crazy) it's only a 300-foot swim, with a few bull sharks that might try to stop you.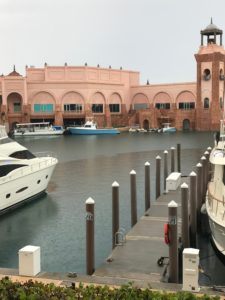 That's one of the best kept secrets in the Bahamas, how many sharks there are in the water. Especially near the resorts and harbors! When the fishermen dock and clean their catch, fish of all sizes in the water get a free meal. Including the huge bull sharks that patrol the harbor. It's also worth mentioning there is an ever-increasing number of shark attacks and sightings in the Bahamas.
It's becoming more and more common to hear about Bahamas shark attacks and sightings of sharks in the Bahamas. They're the apex predator in the water and we're bobbing through their home like floating candies.

The Baha Mar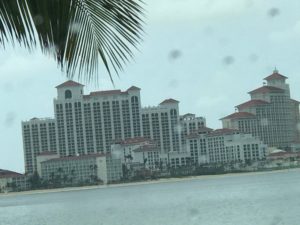 If you don't care about the water parks, I hear the Bahamar (once it's open) is beautiful inside. It has amazing pools, golf course, and world class restaurants.

This is where we will visit next time to see if all this hype is true.
Sandals Resort

I have not yet stayed at Sandals Resort. I met a newlywed couple who'd just left the resort – they said they paid $6,400 for the week for the room alone.

They felt it was super overpriced, the day trips were super overpriced, and very disappointing.

I'm taking a hard pass on Sandals based on their convincing testimony.

Marley Resort and Spa was formerly a private vacation home for the legendary Marley family. Bob and Rita Marley discovered a former governor's mansion during a visit to Nassau, while they were recovering from an assassination attempt in Jamaica (1976).

This ocean front resort is small, but has a great vibe and feel to it. If you don't care for water parks or having to pay to get into the water parks on the island, give this place a shot.
Best Shopping Spots in Nassau and Paradise Island
Go to The Straw Market in Downtown Nassau
The Straw Market in downtown Nassau is riddled with little nick-knacks, souvenirs, knock off Rolexes and Cohiba Cigars. Peppered all around the Straw Market are stores that sell what you would expect to find where cruise ships drop off their passengers.
If you want to shop at the local jewelry shops go door-to-door, as there are more than you can count right on the main drag. Never pay their asking price – you can barter with them. I helped a buddy buy his wife wedding ring there. It's a long story, but he bought a $25,000 wedding ring for less than $2,500. Don't tell his wife 🙂 It wasn't stolen or fake either, we even got a warranty right from the store. You can work some deals if you put in the effort.
You can do the same thing at the straw market as well.
FYI: If the cruise ships are in, this area can be extremely busy.
Buy your souvenirs at the Nassau Airport

If you flew in and just want rum, cigars, or other typical souvenirs, wait until you get to the airport. You won't need to pack them or carry them before your flight, and they cost about the same as you'll pay at the Straw Market.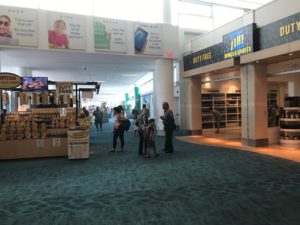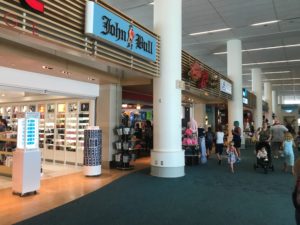 Best and Worst Bahamas Restaurants on Paradise Island and Nassau
The service is horrible at the Atlantis Resorts
90% of the time, don't expect any royal treatment – or nicely at all for that matter. The common demeanor you'll receive from waiters/waitresses is they give zero f***s. They do not care about the quality of your dining experience. Sound crazy? Well, it is. Gratuity most everywhere you go on Nassau or Paradise Island adds into your total price at the end of your meal. It's around 16%, and that doesn't include the VAT (value added tax) which throws everything on (like a state tax). Whether the staff treats you horribly or nicely they still get a 16% tip. You can see what's wrong with this system.

I'm not kidding, it's the worst service I've ever had anywhere, and I love to eat! I've been to restaurants all around the world and I have never had worse service anywhere. Seriously.
Did I Mention the Service Sucks in the Bahamas?
As I was saying, the service on Paradise Island is absolutely atrocious. Even the locals laugh about how bad it is. A local business owner said there's only a 5% return rate of passengers-visitors to the Bahamas. I'm told they survive because it's a tropical tourist destination, so cruise ships come in every day dropping off boatloads of fresh victims with cash to blow. Each new victim falls prey to these servers who know they don't need to be nice, or even courteous, because they will most likely never see these customers again.
Even if they do, they still keep 16% of whatever is spent, whether it's an $8 bottle of water or an $11 ham sandwich.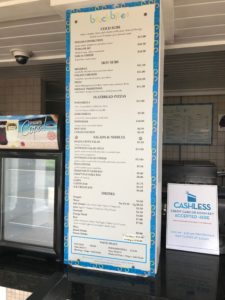 Beside the bad service, no matter where you go plan on spending at least 2 hours in the restaurant. Plan ahead!
The few exceptions are buffets, poolside food, and fast food spots on the Atlantis strip.
Now that we've addressed the service, let's discuss the food quality.
It is very difficult to find a meal quality that justifies its price on the Island.
The Atlantis owns most of the restaurants, and they recycle the same menus and food wherever you go. It's like to being on a Carnival Cruise food wise. Nowhere we ate was great. The pool charges $10.50 for a poorly assembled ham and cheese sandwich. Olives, the more upscale restaurant, charges $28 for two testicle-sized pieces of frozen fish with a side of stale fries.

Speaking of Olives, check out this lady in the picture. She took my credit card and said she had to take my driver's license too. I noticed when I got the ticket, my driver's license info was written out on the back of the part they keep. Nowhere else did a wait staff do this. About an hour later, Amex called me asking if I'd just bought $1,600 worth of electronics at Best Buy, as well as some Uber rides and a bunch of other crap in California. While I was in the Bahamas.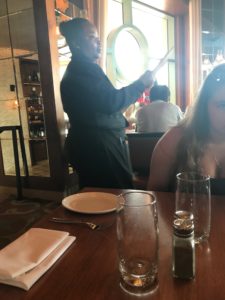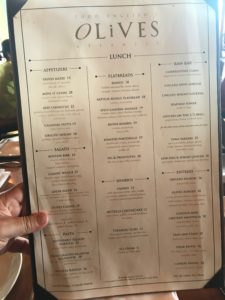 I'm not directly calling them thieves, but it sure seems like an uncanny coincidence. Think twice before you hand over your driver's license. If they want to verify the name on the credit card with the ID that would make sense, but for them to have to take it and return with it later… that's #supershady.
Fireside is another restaurant on the strip next to Atlantis. Fireside is also super overpriced, and the food is far from great. The service is super weak as well.

Jimmy Buffet's Margaritaville was horrible! I've patronized the Oahu, Caymans, and Capitola locations and those are always good, but man this place is horrible. We went there twice (I am a huge fan of their volcano nachos) in hopes it was just an off night for them, but it wasn't. They got all the orders wrong, looked and tasted like truck stop food, and took over 3 hours for our orders. They forgot to put chicken on the nachos, and when I called them on it they bought a bowl of chicken strips an hour later. They did that so they could make sure to charge me for the chicken even though the nachos were gone long before.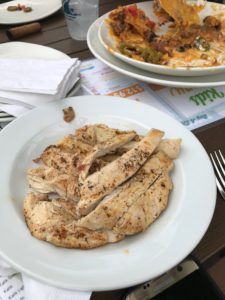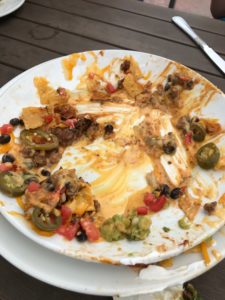 Okay, enough of the bad, I don't want this to read like a compilation of bad Yelp reviews. But man am I huge on food and was so disappointed. Luckily, I found a few saving graces on the Island.
Best food and Best Price on Nassau, Paradise Island by Far, Far and Away

Oh Andros at the Fish Fry
Oh Andros has the best Bohemian food and portion sizes you'll find. The best part… no gratuity or VAT taxes built into the tag at the end of your meal!
What's that mean? Great service, AND great food. This is the best you will find on the Island.

Check them out here:
https://foursquare.com/v/oh-andros-restaurant/4c1c169d63750f47b709b667
Twin Brothers next door to Oh Andros (in the Fish Fry) also has great food, and more importantly has world-class piña coladas. No joke, you won't find a better piña colada on any continent.

Caution about the Fish Fry

Visiting the Fish Fry is like visiting a super pushy car lot, with salespeople stalking and chasing you around the lot. Some of the restaurants at the Fish Fry do the same thing. These businesses can be super pushy, invading your space trying to get you into their establishment.
It's also a great place to buy super crappy cigars they'll swear are Cohibas.

Don't buy them.

It's best to take a cab to the Fry and catch a cab back to your hotel, resort, or Airbnb.

Some miscreant locals break into vehicles, rob tourists, and other nefarious misdeeds, so be on your guard. Most likely you'll be fine. If you're a better-safe-than-sorry type of person go during the day. The food is worth the trip, and fortune favors the brave.
Checkers

Solid Bohemian food with no VAT or built in gratuity!

http://www.checkerscafebahamas.com/
Poop Deck East Bay
A bit pricey, but solid Bohemian Food.
Yep, that's right! Nassau Airport is one of my favorite airports for one main reason… the outdoor smoking area 🙂
They have really good food. For $11 you can buy one of their GrayCliff Cigars to enjoy with your food and a nice cold beer, at a comfy outdoor area where smoking is still allowed.
Don't eat before you leave, wait for the airport and eat at Graycliffs. It's awesome!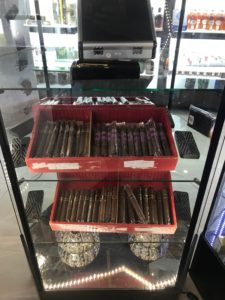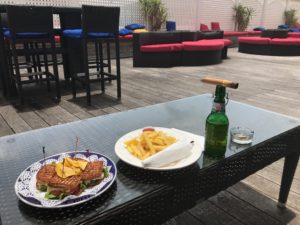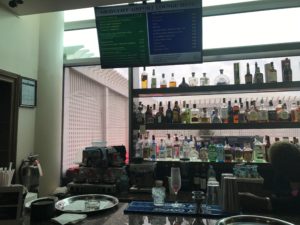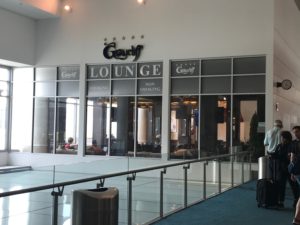 Best Things to Do in the Bahamas
Take a sports fishing charter
My new buddies at http://live2.fish are so awesome. They took us out on the water and instinctually knew where all the fish were. Within a few hours, we caught well over 30 fish!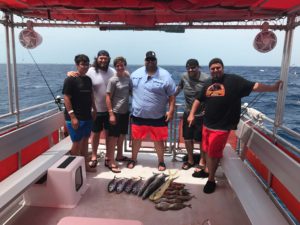 We liked them so much we went out with them twice in the same week.
Did I mention they cook?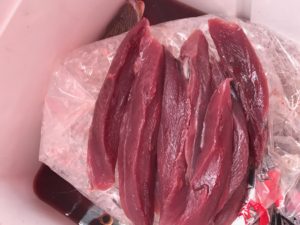 It was the best food we had all week. Both trips out with them they grilled our catch, and even brought burgers and tenderloins to barbecue for us on a beautiful, private beach while we waded and snorkeled in the crystal-clear water.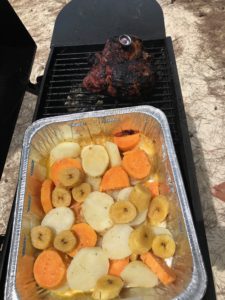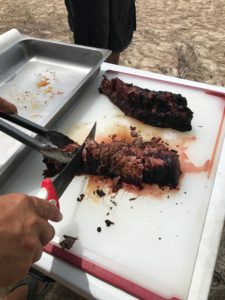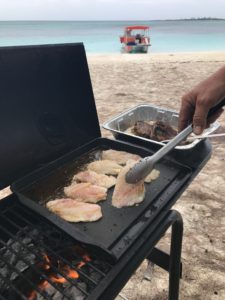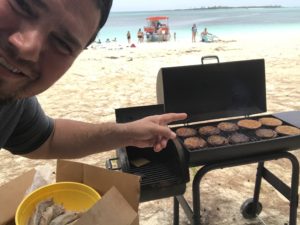 These guys are some of the coolest people you will ever meet, and cook some of the best food you will ever eat. They know their stuff! They made the whole trip awesome for us.
I also want to mention I have been sport fishing 10 times in the Bahamas, and never have we had such awesome, fruitful trips back-to-back like that. It was no fluke. The other charters in town are simply not on the same level as Johnny and Andrew.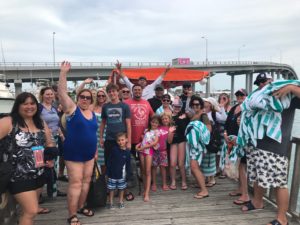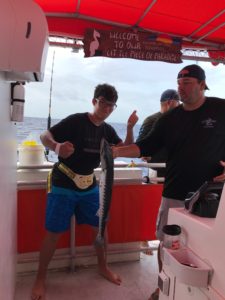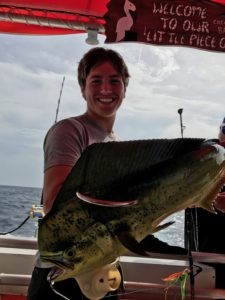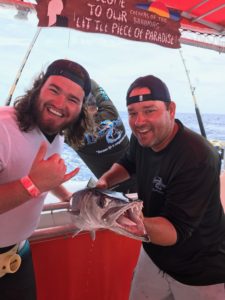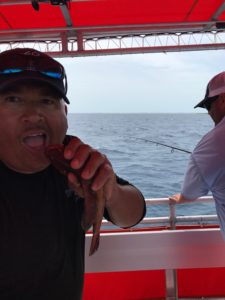 These guys are great, check them out here: http://live2.fish/
Snorkel in the Bahamas!
Guess who also has a party boat equipped with group snorkel gear?

That's right, my new buddies Johnny and Andrew at Live2.Fish. They'll take you to all the best spots and bring you back safe and sound!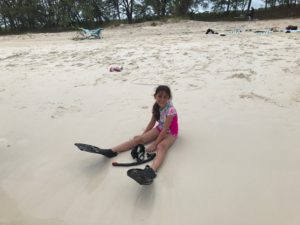 Visit their site here: http://live2.fish/

Swim with the Pigs!

Live2Fish will take you to the Exumas as well. There you can eat an awesome lunch prepared for you while you swim and snorkel with adorable and friendly swine. 🙂
Learn How to roll cigars and take a cigar tour
Our group and I had an awesome time learning how to roll cigars and tour the factory at Graycliff.
Check them out at http://www.graycliff.com/graycliff-cigar-company/
It's a great time even if you're not a cigar aficionado like me 🙂

Take a Bahama Rum Tour
Great people, great history, and great rum! Give them a shot 🙂

Atlantis Water Park

"Aquaventure, Atlantis Paradise Island's one-of-a-kind water park is a 141-acre waterscape. This non-stop aquatic thrill ride features over 20 million gallons of water, incredible Atlantean-themed towers, thrilling high-speed water slides, a mile-long river ride with rolling rapids and wave surges, 20 swimming areas, a spectacular kids water-play fort, and 11 unique and refreshing swimming pools".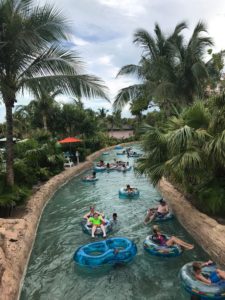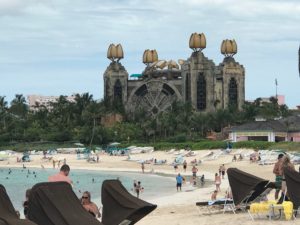 Make sure to wear water shoes!
This place is fun, but dangerous. I fell a couple years ago and it sucked. The concrete walkways are wet, slimy, and slippery. Before I knew it, my feet were above my head and I was flat on my back with a gash on my back and foot. No fun.
Buy water shoes on Amazon if you haven't left yet. They're way cheaper there than at the resort:
Also bear in mind that the 'lazy river' is now not really a lazy river anymore. You have to get out half way around the river and find a new inner-tube, which can be super challenging when park is busy. It seems too many people were being lazy hanging in the river too long for Atlantis brass, so they put an end to the great thing.
Beware the waterslides, especially 'leap of faith.' It's a violent fall and slide to the water that beats the crap out of your tailbone and entire body and ends you with a sonic wedgie. A few trips down and you may just need a chiropractor visit and a hemorrhoid cushion.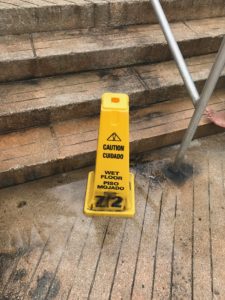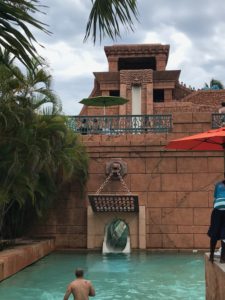 Swim with the Dolphins Bahamas
The Atlantis offers this at their resort too, but it's a bit pricey and you'll have a much better time at Blue Lagoon Island.
http://www.dolphinencounters.com/
Final helpful tips and rants:
Starbucks in the Bahamas is super inconsistent with their product, and has bad service to boot. Look at this silliness: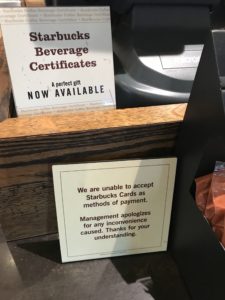 Dunkin Doughnuts is right around the corner. They are far more consistent and as friendly as it gets on Paradise Island.


See Rose Island, which is better for wading in the waters and snorkeling a bit.

Get dropped off and have the boat wait at what the locals call Gilligan's Island. Bring a 6 pack of Kalik's, enjoy the tiny little island, and work on your tan.

Best local beers in my opinion:
· Kalik
· BushCraft
· Sands
Anthony's restaurant on Paradise Island was downright disgusting, and the wait was atrocious.

Ben and Jerry's ice cream is still good in the Bahamas, and they have a spot on the Atlantis strip to prove it but…..SUPER PRICEY!                                            4 people cost me $50.00!! 

The Harborside Inn Point Restaurant doesn't allow beach attire at dinner even though it's at the pool. They have plastic tables and metal chairs. It's downright stupid. The food is expensive and sucks.

Go see

Jaws Beach

if you have time. They recently renovated the dock, but it's still cool to see where the movie Jaws The Revenge was partly filmed.
If you need a hospital, ONLY GO TO

Doctors Hospital

.

Bring an umbrella, or enjoy the warm rain on your head as the weather can change in a split-second.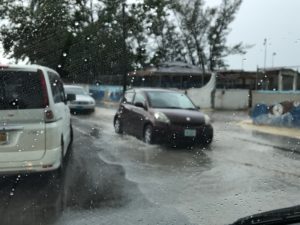 Beware of the guys on the beach trying to rent you some jet skis. They are not maintained, they don't give you an amount of time you're paying for, and worse yet they try to renegotiate the price with you once you're off the jet ski. It's pretty much theft – be ready to fight. Look for these guys on the beach by the Atlantis resort.

The internet everywhere sucks! I have T-Mobile and AT&T and I never get more than 1MB upload or download. All the Wi-Fi on the island is horrible as well.

Get a satellite hotspot if you must have solid internet.

For cell phone repair in the Bahamas, use Island Cellular. They are awesome, and can fix anything!  

242-326-2140
Bring a suitcase filled with all the snacks you and your peeps will want, maybe bring 2 suitcases. Everything in the Bahamas is super expensive. The little stores will charge you $10 for a small bag of popcorn etc. Bring your snack food with you.

If you love Cigars bring your own, don't spend $120 per cigar at the Atlantis!  

Grab one of these little guys and bring your own stoges to the Bahamas!
This is my guide for surviving as a tourist in the Bahamas.
It's not an A-Z guide, but I'm confident you'll enjoy yourself if you try these suggestions for yourself.
I want this to be an ever-green guide of sorts, so let's keep growing it together and help everyone who reads it!
Type in your thoughts and opinions in the comments BELOW and let me know what I missed. People visiting the Bahamas need to know!

God Bless Ya!
P.S  These are my opinions, let me know yours in the comment area BELOW